Opening Reception: WEDNESDAY, SEPTEMBER 12, 6PM – 9PM
PLEASE NOTE NEW ADDRESS:
MEDIANOCHE
1355 PARK AVENUE, FIRST FLOOR
(ENTRANCE ON 102ND STREET)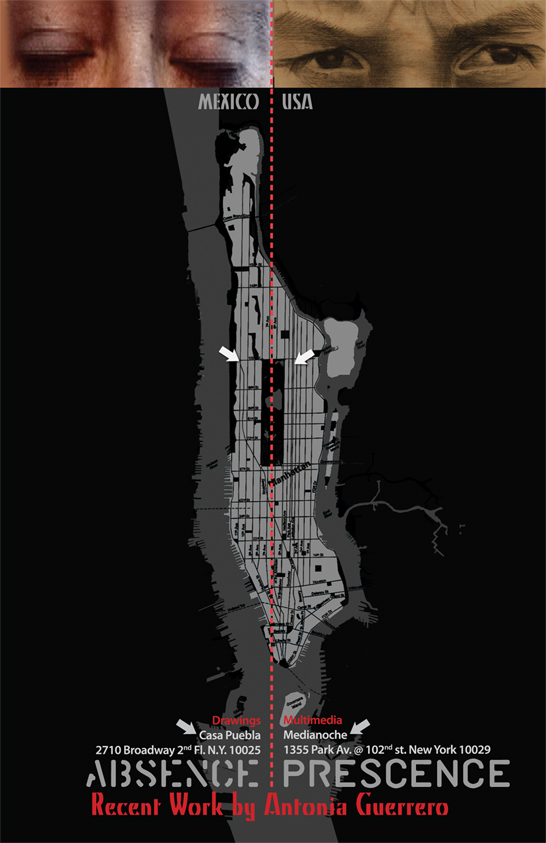 ABSENCE/PRESENCE
an exhibition in two parts: at MediaNoche and Casa Puebla
September 4 – October 12, 2007
Drawings and Mulitmedia by Antonia Guerrero
Opening Reception at MediaNoche: Wednesday, September 12, 6PM – 9PM
Two concurrent exhibitions allow artist Antonia Guerrero to explore the Mexican immigrant experience through different media, articulating a lightness of being that challenges our notions of culture and identity. Crossing the Mexico/U.S. border becomes a rite of passage that is self-contradictory, self-affirming and transformative.
The immigrant is iconically in a state of coming and going, of absence and presence. Through her drawings, the artist establishes a verisimilitude of home at Casa Puebla that is overturned by the virtual reality of a foreign land at MediaNoche. Both become illusive worlds that do not clash as much as meld the familiar with the unfamiliar.
ABOUT THE ARTIST:
Antonia Guerrero is an award-winning Mexican artist working in a variety of media. Her recent work combines photorealistic paintings and drawings re-purposed for her multimedia installations that include video, photographs, digital prints and performance. She has exhibited throughout the U.S. and Mexico, including the Snite Museum, and the Museum of Modern Art of Mexico. Guerrero studied at the National Academy of Fine Arts in Mexico City and at Pratt Institute in New York City.